Oral Health Care for pregnant: Most pregnant patients are generally healthy and need not be denied dental treatment solely because they are pregnant.
Coronal scaling, polishing, and root planing may be performed at any time as required to maintain oral health. However, routine general dentistry should usually only be done in the second and third trimester of pregnancy.
Any treatment should be directed toward controlling disease, maintaining a healthy oral environment, and preventing potential problems that could occur later in the pregnancy or during the postpartum period.
Pregnancy gingivitis usually appears in the first trimester of pregnancy. In some patients, the condition will progress locally to become a pyogenic granuloma or "pregnancy tumor," which is most commonly seen on the labial surface of the papilla as seen in the pictures below.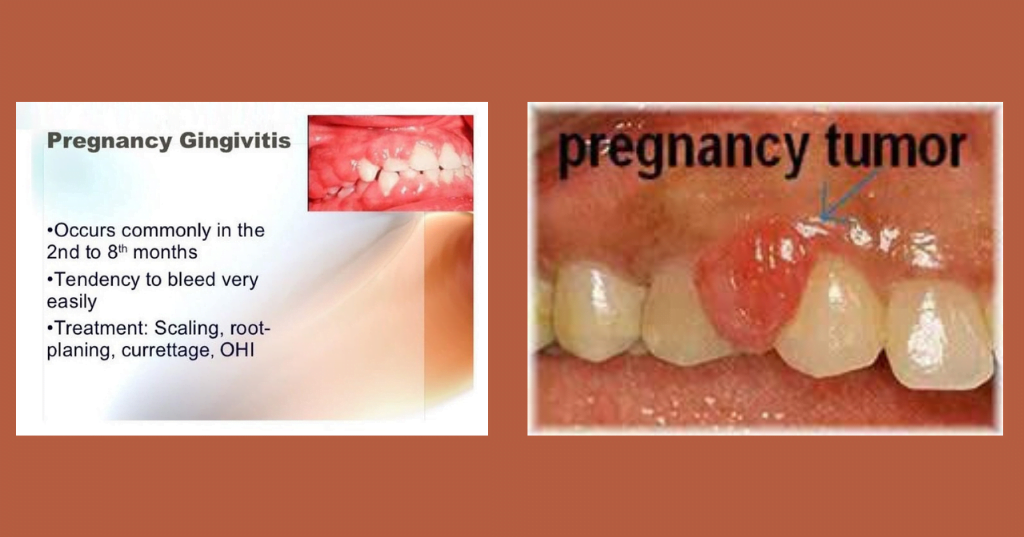 Optimal oral health care is very important for the pregnant patient and can be provided safely and effectively. Paying attention to the physiologic changes associated with pregnancy, practicing careful radiation hygiene measures, prescribing medications on the basis of drug safety categories and timing appointments and aggressive management of oral infection appropriately are important considerations. Given the possibility that periodontal disease may affect pregnancy outcomes, dentists need to play a proactive role in the maintenance of the oral health of pregnant women