Welcome to the World-class Dental Hospital in Madhapur and Banjara Hills rendering advanced dental care to the people of Hyderabad.
At Dr. Lavanya Dental Clinic in Madhapur and Banjara Hills, our treatments like Dental Crown & Bridge, Root canal Treatment, Fixed Braces, Children Dentistry, Periodontal Gum Therapy, Dental Fillings & Restoration, Bad Breath & Halitosis, Scaling / Prophylaxis / Cleaning, Mouth Ulcer, Teeth Sensitivity, Gaps / Spacing Between Teeth, Mobility Of Teeth / Loose Teeth, Dental Caries / Decay / Cavities, Complete Denture / CD / RPD, Dental Related Health Problems, Night Guard are a few which are popularly offered treatments along with many other Dental Treatments for all kinds of dental problems.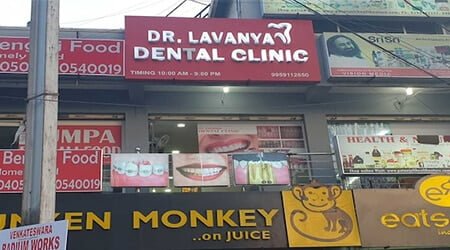 Naveen Pandluru
2023-07-04
Super courteous staff !! Dr Lavanya is extremely good at her work.she ensured all my queries were answered and followed up with great advice on oral care.
Mangala Mangala
2023-07-03
I visited the clinic for teeth whitening and the results are fantastic.Thankyou
Christina Ratna
2023-07-03
I visited the clinic for teeth removal. I received the best treatment, definitely recommend.
Root canal with caring was done nicely.
I have been several dentists in the last few years but this practice by far the best best dental experience I have ever had no pain at all thank u
Mohd Muneer Ahmed
2023-06-20
I went to lavanya dental care for root canal they received me very well and treatment was very good
I went to this dental care for teeth wash I liked their procedure treatment very much anyone can go to this dental care if they want to go in affordable prices