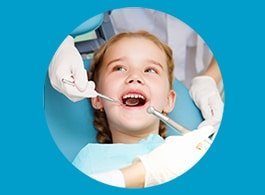 High Quality Treatments and affordable Dental Services for Children.
Nothing is as beautiful as a child's smile. With care and regular dental visits, children can reach adulthood with a lovely smile, free of dental disease. At Dr. Lavanya Dental Clinic & Implant Centre Clinic, our pediatric dental specialists focus on the unique dental needs and oral health of children up to 18 years of age, including children with special needs.
With awareness being created in parents, it becomes important to deal aggressively with Dental problems in children. The challenge is first to ensure that the child overcomes the fear and Specialists at Dr. Lavanya Dental Clinic & Implant Centre Clinic / Hospital are famous for having perfected the art of putting the child at ease.
Dr. Lavanya Dental Clinic excels in Children Dentistry in Madhapur and Banjara Hills, Hyderabad providing expert and kid-friendly dental care for a healthy smile.
Commonly, Treatments like Fillings, Fluoride Application, Trauma Treatment, Modified Root canal treatment, Habit breaking appliances and child counseling which are done best at Dr. Lavanya Dental Clinic & Implant Centre Clinic / hospital by their Super specialists in Pediatric Dentistry.
Dr. Lavanya Dental Clinic & Implant Centre provides comprehensive dental services for children that help:
Improve overall oral health
Prevent gum disease and cavities/tooth decay
Improve your child's smile & look
Best Dental Hospital in Madhapur and Banjara Hills 9959112650 About Lavanya Dental Clinic Welcome to the World-class Dental Hospital in Madhapur and Banjara Hills rendering advanced dental care to the people of …
Lavanya Dental Click – Campaign Read More »
Read More
AT DR. LAVANYA DENTAL CLINIC WE BELIEVE THAT DENTISTRY SHOULD BE PERSONAL, ACCESSIBLE AND AFFORDABLE. WE WORK HARD TO ENSURE THE HIGHEST STANDARDS AND THAT YOU AND YOUR NEEDS ALWAYS COME FIRST.
HIGHLY QUALIFIED CLINICIANS:
Our dentists are highly trained and experienced at the full spectrum of general, restorative and cosmetic procedures. We have particular expertise in pain-free treatment through our sedation clinic. We offer intravenous sedation for adults and inhalation sedation for both adults and pediatric patients.
SUPERB CLINICAL FACILITIES :
Our clinic is equipped with the latest technology to ensure our clinicians' utmost ability to care for you and your comfort, as well as increasing their diagnostic capacity, allowing them to provide you with the most effective and least intrusive treatment.
HIGHEST STANDARDS OF LABORATORY :
It is our policy to use only the most modern dental materials to provide successful and long-lasting dental treatment. This policy includes the use of the most recent filling materials, the most durable and aesthetic crown and bridge materials and the use of new techniques and equipment to improve patient comfort and clinical outcomes.
RIGOROUS HYGIENE STANDARDS :
We have made strenuous efforts to guarantee that the dental treatments carried out in the clinic are absolutely safe and comply with the quality and hygiene requirements of a modern dental consultancy. We exceed all current and planned Irish & EU guidelines in relation to cross infection control and sterilization of instruments.