DENTAL CARIES / DECAY / CAVITIES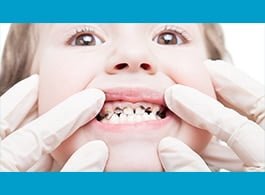 Dental caries also known as tooth decay or Cavity (Black Hole) is a bacterial infection that causes the destruction of the hard tissues of the teeth like the enamel and dentin.
Dental caries is one of the most commonly seen diseases in Children and adults alike. The symptoms of dental caries are toothache/pain, bad breath and Foul taste and if untreated has the potential to spread and infect surrounding teeth and tissue too. On the other hand conditions like reduced salivary flow rate is also associated with increased caries.
Dr. Lavanya Dental Clinic & Implant Centre have a team of Doctors who have been trained to be experts in handling Dental caries. Traditional Treatment still exists in many places, but the Adoption of new techniques and innovations in treatment and the importance given to Prevention of Caries and counseling that the patients get in various preventive techniques like proper Brushing, Flossing, use of mouth washes and overall oral hygiene have made Partha Dental Clinics/ Hospital stand apart from the rest as a complete dental care center.
Dr. Lavanya Dental Clinic & Implant Centre is outstanding in offering Dental Caries Treatment in Madhapur and Banjara Hills, Hyderabad, providing effective and personalized care for healthier smiles.
Best Dental Hospital in Madhapur and Banjara Hills 9959112650 About Lavanya Dental Clinic Welcome to the World-class Dental Hospital in Madhapur and Banjara Hills rendering advanced dental care to the people of …
Lavanya Dental Click – Campaign Read More »
Read More
AT DR. LAVANYA DENTAL CLINIC WE BELIEVE THAT DENTISTRY SHOULD BE PERSONAL, ACCESSIBLE AND AFFORDABLE. WE WORK HARD TO ENSURE THE HIGHEST STANDARDS AND THAT YOU AND YOUR NEEDS ALWAYS COME FIRST.
HIGHLY QUALIFIED CLINICIANS:
Our dentists are highly trained and experienced at the full spectrum of general, restorative and cosmetic procedures. We have particular expertise in pain-free treatment through our sedation clinic. We offer intravenous sedation for adults and inhalation sedation for both adults and pediatric patients.
SUPERB CLINICAL FACILITIES :
Our clinic is equipped with the latest technology to ensure our clinicians' utmost ability to care for you and your comfort, as well as increasing their diagnostic capacity, allowing them to provide you with the most effective and least intrusive treatment.
HIGHEST STANDARDS OF LABORATORY :
It is our policy to use only the most modern dental materials to provide successful and long-lasting dental treatment. This policy includes the use of the most recent filling materials, the most durable and aesthetic crown and bridge materials and the use of new techniques and equipment to improve patient comfort and clinical outcomes.
RIGOROUS HYGIENE STANDARDS :
We have made strenuous efforts to guarantee that the dental treatments carried out in the clinic are absolutely safe and comply with the quality and hygiene requirements of a modern dental consultancy. We exceed all current and planned Irish & EU guidelines in relation to cross infection control and sterilization of instruments.