DENTAL FILLINGS / RESTORATION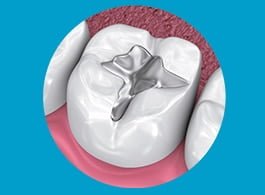 A Dental filling involves the use of Dental restorative material to protect the integrity and function of a tooth.
The best and time tested fillings are of many types which are the Zinc Oxide - eugenol, Amalgam / Metal, Cement, Glass Ionomer Cement (GIC) and the Composite Filling and bondings.
Dental restorations can be for protecting the tooth, usually on the posterior end and for improving aesthetics when gaps in between the teeth are closed with composite filling in a procedure called Composite Diastema closure.
At Dr. Lavanya Dental Clinic & Implant Centre, Specialists have been successful in handling all types of fillings both Posterior and Anterior with different types of filling material available including tooth colored fillings which lend an unmistakable appeal to the individual undergoing the procedure
Crowns and bridges are types of Dental restoration which completely encircle and protect a tooth
Read More
AT DR. LAVANYA DENTAL CLINIC WE BELIEVE THAT DENTISTRY SHOULD BE PERSONAL, ACCESSIBLE AND AFFORDABLE. WE WORK HARD TO ENSURE THE HIGHEST STANDARDS AND THAT YOU AND YOUR NEEDS ALWAYS COME FIRST.
HIGHLY QUALIFIED CLINICIANS:
Our dentists are highly trained and experienced at the full spectrum of general, restorative and cosmetic procedures. We have particular expertise in pain-free treatment through our sedation clinic. We offer intravenous sedation for adults and inhalation sedation for both adults and pediatric patients.
SUPERB CLINICAL FACILITIES :
Our clinic is equipped with the latest technology to ensure our clinicians' utmost ability to care for you and your comfort, as well as increasing their diagnostic capacity, allowing them to provide you with the most effective and least intrusive treatment.
HIGHEST STANDARDS OF LABORATORY :
It is our policy to use only the most modern dental materials to provide successful and long-lasting dental treatment. This policy includes the use of the most recent filling materials, the most durable and aesthetic crown and bridge materials and the use of new techniques and equipment to improve patient comfort and clinical outcomes.
RIGOROUS HYGIENE STANDARDS :
We have made strenuous efforts to guarantee that the dental treatments carried out in the clinic are absolutely safe and comply with the quality and hygiene requirements of a modern dental consultancy. We exceed all current and planned Irish & EU guidelines in relation to cross infection control and sterilization of instruments.